we made the fastest machine at Roll Changing
(from stopto next start) in the world -32sec
The time required in the rollchanging process including taping the end of rolls is 28 seconds
This is the fastest machine in the world.
It contributes to the production increase of the machine.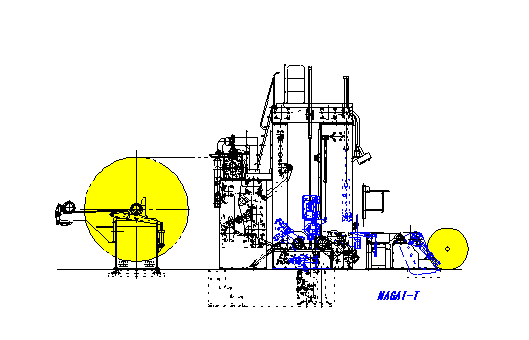 Sheet width 6300mmWinder, New Sheet treader equipment was developed, and it is operating very well by one operator.
New automatic operations Winder was exported to Thailand in 2005. Slitter of all unit simultaneous positioning was newly developed, and it corresponded into frequent size changing.
---






---
We have developed papercore cutting supply device for direct coupling of Winder, was actual delivery. Is inserted into the winder to produce papercore in accordance with the automatic production order by communicating with upper management production line. Wholesale 300 sets/day papercore supply capacity
We have developed
2-
drum
s
winder with coreless winding system
, we have
actualdelivery
.